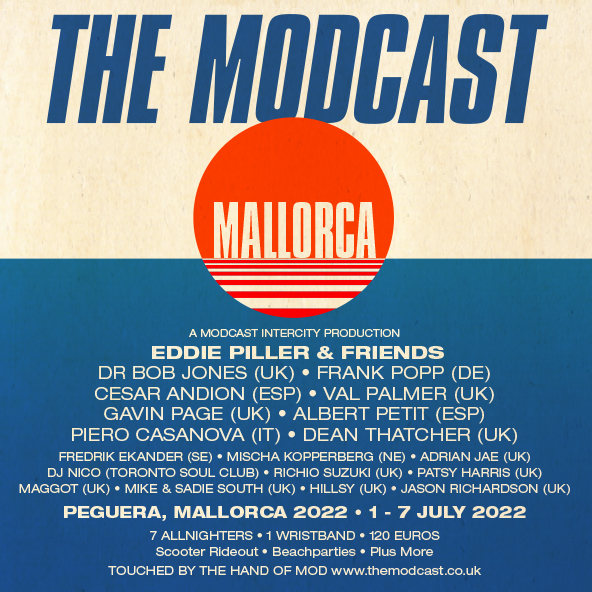 MODCAST MALLORCA!
WHERE
PAGUERA, Mallorca.  A lovely resort on the south coast.   Everywhere is walking distance. .Check it out!:  https://www.abc-mallorca.com/peguera/
We are running our first overseas soiree by means of a holiday yay .. in lovely Mallorca.  Modcast HQ are working closely with Mallorcan promoters La Concha Soul which is also a hotel, which is where we will be based through the entire week.
This holiday is not all inclusive and is very much your own Summer hols with added benefits so you can stay where you want.  There are plenty of hotels and Airbnbs.. but we have these recommendations if you fancy!.
We do have 3 three hotels to recommend if you so wish. All offering special rates for modcasters.
Boutique £££: La Concha Soul (Modcast HQ!)
Midrange ££: Beverley Hotel (see Modcast offer)
Budget £: Amistad Hotel
Information to book any of these is listed below:-  Or find your own. Everywhere is close to each other. It's your holiday to tailor as you wish!.
Note that this holiday is peak season which means guaranteed lovely weather and warm beach fun and excursions, but it does mean it is more pricey.
There will be a Modcast ticket which will include entry to a night-time venue throughout the week and access to La Concha Pool/Bar which is where we will host daily chilled music sessions. And in addition to this, there will be a separate daily activity.
Main ticket will be going on sale in the next few weeks.   LINEUP to follow next year!
**BOUTIQUE:  LA CONCHA SOUL** (Modcast HQ)
Double Room with Breakfast included: 60 € per person / night
Double Room for Single use with Breakfast included: 90 € per person / night
Triple Room with Breakfast included: 50 € per person / night
*Deposit 30% and rest of payment upon arrival.
***For reservations please send email to reservas@laconchasoul.com with MODCAST subject.
-MID RANGE – BEVERLY HOTEL* where w/end eve party is held
Rooms approx. €85 /night with OFFER as follows:
Promocode: 22GRP0010
Stay Dates: 29/06/22-10/07/22
Discount: 5% discount on the flexible rate (possible to cancel for free until 3 days prior to arrival and no prepayment except for multiple bookings)
*** Reservations – BOOKINGS LINK HERE: https://bit.ly/3uGrejl
*w/end eve event held in their nightclub
**BUDGET(ish!) – AMISTAD HOTEL **
WEB: https://bit.ly/3GuGdCt
Single room €55 inc breakfast
Dbl room without private terrace/Balcony €85 incs breakfast
Dbl room with private terrace/balcony€100 incs breakfast
Triple room €125 incs breakfast
*** For reservations, Email:  amistadhostal@yahoo.com and quote MODCAST MALLORCA to get these rates
DJ lineups 2022
More info on excursion etc coming soon ..