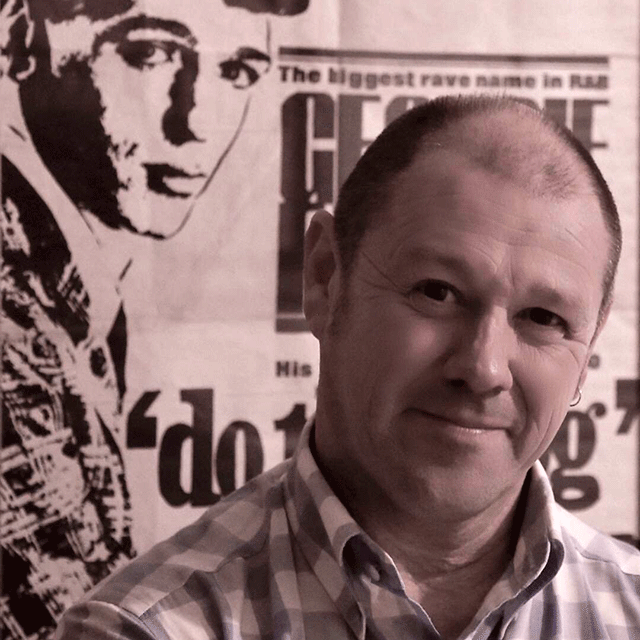 Paul 'Smiler' Anderson
Paul 'Smiler' Anderson has DJ'd since July 1985. He has put on various clubs over the years including The Kings Tavern R&B Club in the late 80's. He DJ'd on the C.C.I Mod rallies and was a founder member and DJ of the original Untouchables rallies. He has DJ'd nationally at various club nights , and also founded Club Rude! Specialising in Ska and reggae. 
Currently he co-runs The Fourth Dimension nights in Reading centred around Jazz, Funk, Soul and Hip Hop, as well as SoHo's 'Jazz For Moderns night.
As a major record collector he has DJ'd at Mod events both here and in Europe for over 30 years. Co- author of 'Circles – the strange story of The Fleur De Lys.', he has also written music articles for magazines including 'Shindig! and various book inputs. These days he  writes sleevenotes for the 'History of R&B' label 'Soho Jazz' LP's  plus 'Rare Mod' series of  compilations and EP's on Acid Jazz records. In 2011, teaming up with with Damian once more, he got to realise his dream of presenting the biggest ever exhibition of  60's Mod related items. 'Reading Steady Go!' proved to be Reading museum's most successful exhibition to date. His books include 'Circles – The Strange Story of The Fleur De Lys' ( Acid Jazz Publishing 2009), , 'Mods – The New Religion'  ( Omnibus 2014) which became a best seller, 'The Pocket Guide To Mod' ( Red Planet 2018) and 'Mod Art' (Omnibus 2019). He is currently working on a book about Skinheads and Suedeheads 1966-73 with fellow author Mark Baxter.