SIGN UP TO RECEIVE OUR NEWSLETTER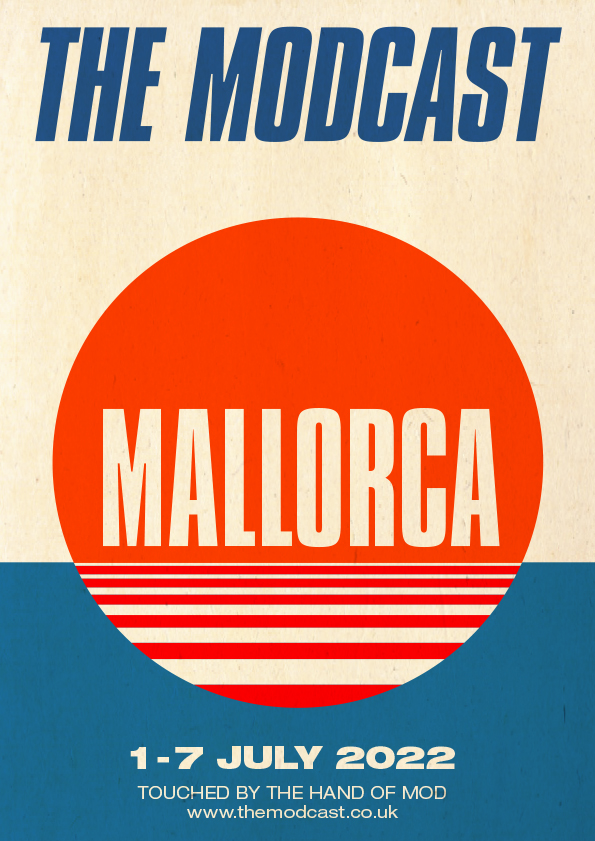 Where: Peguera, near Palma
What: Night parties and Day excursions..
Wristband for nightly events. Excursions on payable On-top.  Ticket info coming soon.
Book your own hotels & flights.
Flexibility for all.
Modcast Holiday in the Balearics 2022.
Summer holiday with guaranteed good weather and fabulous Music with Mods from all over Europe in attendance.
Modcast are working with experienced local promoters who we know well.
Party each night included in weeklong wristband. Plus additional daily excursions including Beach parties; Lambretta hire for Scooter Ride along the coast; Boat Party and loads of fabulous DJS and Food.
Modcasters book their own hotels and flights. Modcast Towers will be recommending hotels 2* 3* 4* or book your own Air BNB.etc.
This week will be very flexible to cater to everyones budget.
TOUCHED BY THE HAND OF MOD.
Join our mailing list and get up to date information regularly.
Tickets will be on sale very soon.
The Modcast are proud to welcome
PAUL WELLER
as our guest on Totally Wired Radio
Tues 3

 Dec 6pm
Tues 10 Dec 6pm
Episode 64 hosts the legendary vocalist, songwriter, poet and guitarist sitting in with host Eddie Piller and accomplished author Paul 'Smiler' Anderson for part 1 of a 2 hour broadcast with this seminal artist.
The first show is on East London's Totally Wired Radio at 6pm on Tuesday the 3rd December and is followed by an exclusive one hour playlist of Paul's latest spins. Part 2 airs the following week on 10
th
December at 6pm again followed by an hour of Paul music selections.
The regular weekly Modcast podcast was established in 2010 and has featured guests as diverse as Martin Freeman, Sir Bradley Wiggins, Geno Washington, Ronnie O'Sullivan and Weller's Style Council partner Mick Talbot all talking about their passion for the modernist ideal.

 

You can listen back to the archive on the website here.